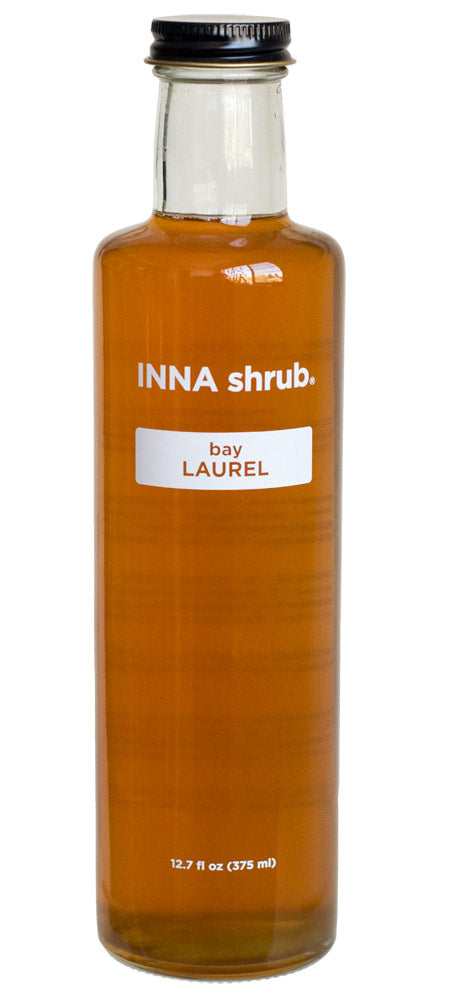 bay LAUREL shrub
Our bay LAUREL shrub tastes like a springtime hike in the sunny California hills! This shrub is made from fresh bay laurel so it is bright and verdant and it will blow you away with its super herbaceousness. Canopy of bay trees exhaling.
For cocktails, our bay LAUREL shrub pairs well with gin. See our recipe for a gin & laurel below: 
"Wow! That's delicious.
I have no idea what a bay laurel is but it's my new favorite laurel"
- Ray, Los Angeles
 To make a shrub soda, mix 1 part shrub to 5-6 parts sparkling water.  
---
Shrub (also known as drinking vinegar) has a long tradition as a refreshing beverage going all the way back to the Colonial Era, but it actually originated a thousand years ago in the Middle East! Like our jams, shrubs are an excellent way to preserve the harvest of our gorgeous fruit when it is at it's most perfectly ripe. The vinegar and sugar both help to preserve and capture the fleeting fruit flavors while balancing each other out to make a sweet-tart syrup that a perfect base for a drink. Shrub is essentially a fruit-vinegar-sugar syrup. Mixed with sparkling water it's the most refreshing drink we've ever had. Of course, it's also great in cocktails.
INNA shrubs can be stored at room temperature, and ideally away from direct sunlight. Shake before using - separation is natural!
INGREDIENTS: organic unrefined cane sugar, organic white wine vinegar, fresh organic bay laurel leaves (grown in Dixon, California)
SIZE: 12.7 fluid ounces (375 ml)
---
More from this collection