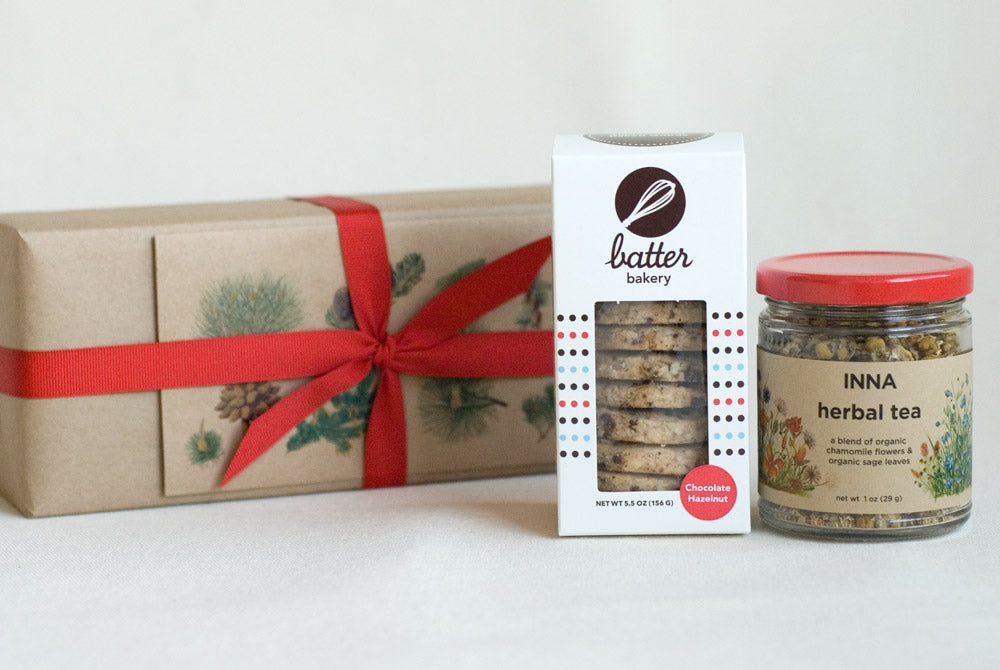 GIFT: 1 box of shortbread cookies + 1 jar of herbal tea
This gift set will ship on Friday, December 8 (with freshly baked cookies!).
If you include this item in a bigger order, your entire order will ship together on Friday, December 8.
This gift set includes one 6 oz box of Batter Bakery's CHOCOLATE HAZELNUT SHORTBREAD cookies plus a 1 oz jar of our chamomile and sage HERBAL TEA.
The shortbread cookies are crisp & rich, with a generous amount of toasted hazelnuts and bittersweet chocolate. They are so so good and a lovely pairing to our herbal tea.

Our very own herbal tea blend featuring organic chamomile flowers and organic sage leaves! We've been drinking this tea blend for years, our friends call it our "house blend." It's complex and flavorful - the savoriness of the sage balances out the fruity-floral flavors of the chamomile. I love drinking this herbal tea in the evenings, especially after dinner. It's also super refreshing as an iced tea, so flavorful and complex - no sugar needed!

We blend this tea using the freshest organic herbs. If you've never had freshly harvested chamomile, this bright and robust flavor is a revelation!

"For years, visits to my friends Dafna and Jesse's house have concluded with cups of their house blend tea. Sometimes they send us home with a little jar of it — a precious commodity, quickly depleted. Now, that tea is available to everyone. It's decep­tively simple, made from chamomile flowers and sage leaves, all fresh and organic. I'm telling you, though: this is the one. This is the tea." - Robin Sloan

Ingredients of the shortbread cookies: organic unbleached wheat flour, unsalted butter, cane sugar, bittersweet chocolate, hazelnuts, vanilla extract, salt

Ingredients of the herbal tea: organic chamomile flowers, organic sage leaves

---------------------------
Please choose the art for your card in the drop down menu above (if you don't write a message, we'll include the art of your choice, it just won't have a message printed in it). You can see the different art choices below:

A -- "August"  (tied with red ribbon)
engraving by Henry Fletcher, 1732.   

---

B -- "July"   (tied with red ribbon)
hand-colored engraving by Henry Fletcher, 1732.

---
C -- "Strawberry Thief" (tied with white twine)
textile design by William Morris, 1883.

---
D -- "The Strawberry Bed"   (tied with red ribbon)
wood engraving by Winslow Homer, 1868.

---

E -- "Wild Flowers of the Pacific Coast"   (tied with white twine)
watercolor sketches by Emma Homan Thayer, 1887.

---

F -- "California Landscape"   (tied with white twine)
painting by William Wendt, 1920.

---

G -- "A Description of the Genus Pinus"   (tied with red ribbon)
botanical illustrations by Aylmer Bourke Lambert, 1837.

---

H -- "Snow-Flakes"   (tied with white twine)
representations of individual crystals, actually observed and sketched with the aid of the microscope, 1863.
---
More from this collection