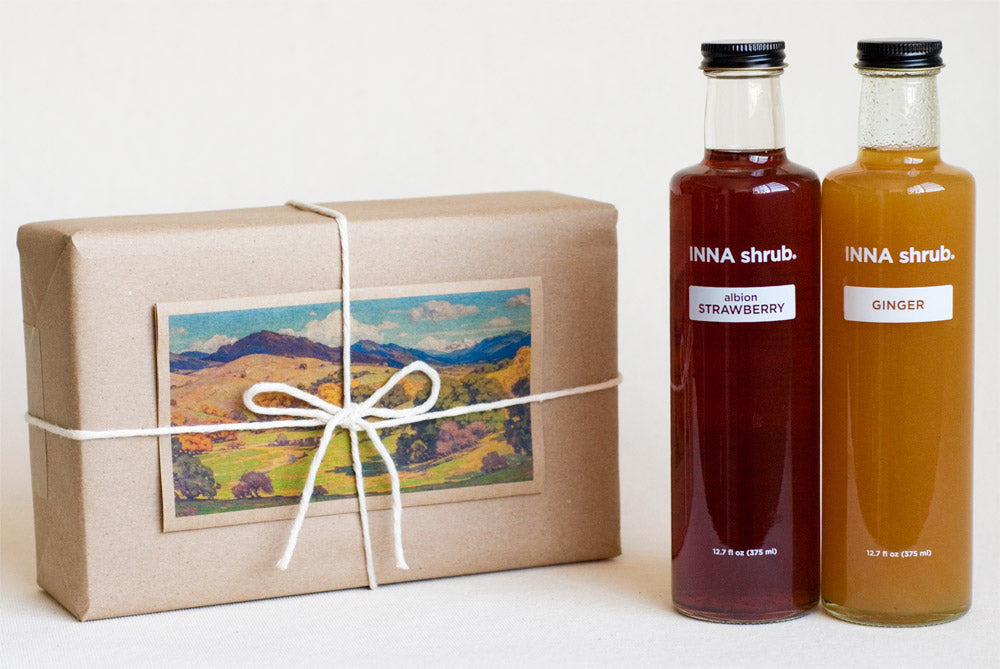 GIFT: 2 bottles of shrub, wrapped in KRAFT paper with an ART card
This gift set includes two bottles of shrub packaged with recipe cards in a gift box. 

Please choose your preferred shrubs from the drop-down menus above.

Also, please choose the art for your card in the drop down menu above (if you don't write a message, we'll include the art of your choice, it just won't have a message printed in it). You can see the different art choices below:

A -- "August"  
engraving by Henry Fletcher, 1732.   

---

B -- "July"
hand-colored engraving by Henry Fletcher, 1732.

---
C -- "Strawberry Thief"
textile design by William Morris, 1883.

---
D -- "The Strawberry Bed"
wood engraving by Winslow Homer, 1868.

---

E -- "Wild Flowers of the Pacific Coast"
watercolor sketches by Emma Homan Thayer, 1887.

---

F -- "California Landscape"
painting by William Wendt, 1920.

---

G -- "A Description of the Genus Pinus"
botanical illustrations by Aylmer Bourke Lambert, 1837.

---

H -- "Snow-Flakes"
representations of individual crystals, actually observed and sketched with the aid of the microscope, 1863.



---
Perfect for making refreshing fruit sodas, flavorful cocktails, or salad dressings. To make our shrub into a fruit soda, mix 1 part shrub to 5-6 parts sparkling water. 

---
"The best Thank You gift I've ever sent to someone! The response I got back: "I can't stop drinking them! SO. DELICIOUS! "
- Julie Morelli / Nourishing Notes
---
Shrub (also known as drinking vinegar) has a long tradition as a refreshing beverage going all the way back to the Colonial Era, but it actually originated a thousand years ago in the Middle East! Like our jams, shrubs are an excellent way to preserve the harvest of our gorgeous fruit when it is at it's most perfectly ripe. The vinegar and sugar both help to preserve and capture the fleeting fruit flavors while balancing each other out to make a sweet-tart syrup that a perfect base for a drink. Shrub is essentially a fruit-vinegar-sugar syrup. Mixed with sparkling water it's the most refreshing drink we've ever had. Of course, it's also great in cocktails.
INNA shrubs can be stored at room temperature, and ideally away from direct sunlight. Shake before using - separation is natural!
---
More from this collection